RABI
Supporting farming families
COUNTRYSIDE RACE MEETING
Monday 21st May at Leicester racecourse
Raceday timings can be found here

Admission Tickets - £10.00 in advance, proceeds to RABI. Gate price on the day - £14.00 Hospitality packages available at £80.00 per person. Includes admission, race card, meal and more!
Please ring Mary Martin on 07525 323450 for further details
---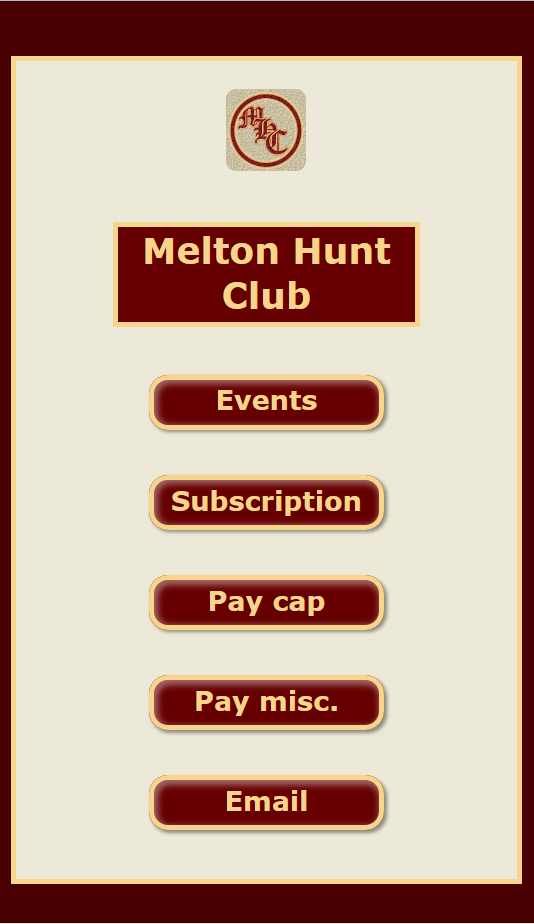 SMARTPHONE? TABLET?
Via MHC's popular smartphone 'app' you can now make online payments for MHC subscriptions, reduced-rate caps and other items, and you can also email the MHC (and the BH, CH and QH) Secretaries – all from within the app. This is complementary to the online payment pages of this website - you can use either, whichever is more convenient - and they offer the same facilities.
See the Newsmedia / Newsfeeds page for more details.
And, at the top left-hand corner of
this
page, you might have noticed a small yellow or maroon box with three bars. Clicking it displays the menu vertically instead of horizontally and in much larger lettering. This is to help:
users of smartphones (that have small screens usually held vertically)
those with a visual impairment
---
MHC caps
Caps for days with the Belvoir, Cottesmore and Quorn are booked with MHC in the usual way, but when you come to pay, you will be switched automatically to the payment system of the appropriate Hunt. These are very similar to MHC's payment system and you are unlikely to encounter any new problems.
Any requests for refunds or 'banking' for cancelled days must be made direct to the Hunt concerned and not to MHC.
Booking and payment for Meynell and South Staffs reduced-rate caps remain handled entirely by MHC.
---
What's where?
The Belvoir, Cottesmore and Quorn Hunts have 'countries' that converge in the market town of Melton Mowbray in Leicestershire. They operate independently but are closely associated with Melton Hunt Club (MHC). MHC organises limited reduced-rate caps (days) with the three constituent Hunts (plus a fourth guest hunt — currently the Meynell and South Staffs) with the aim of getting more people to try hunting in Leicestershire and the surrounding area. MHC also runs the famous Melton cross-country 'ride' and maintains the UK's best point-to-point racecourse at Garthorpe. This website, together with its associated Facebook page, Twitter account and smartphone app, is MHC's 'official' presence. But because MHC's activities span several distinct fields, racing at Garthorpe has its own website, Facebook page and Twitter account, and the MHC Ride has its own Facebook page.
---
Welcome...
... to the Melton Hunt Club's website for stop-press news and a summary of forthcoming events. There are details of how to contact us, point-to-point dates, information about the Garthorpe racecourse which is widely recognised as the finest dedicated point-to-point course in the UK, and details of our cross-country and sponsored rides. Finally, there is a summary of the arrangements between the MHC and constituent Hunts, a potted history of the MHC and its current subscriptions.
See in particular the
Events
page for dates of point-to-point racing at Garthorpe.
---
Point-to-point vendors
If you wish to run a stall at one or more of the point-to-points, please email the point-to-point secretary of the relevant Hunt via their website or – for MHC's own raceday – MHC's. A guide to Health and Safety requirements for food and drink vendors is available in the Downloads area on the right.
---
Point-to-point spectators
We always hope for good going and fine weather — a combination not always easy to attain. Hot and cold food and drinks are available at all the point-to-points, and spectators are also most welcome to bring picnics. But if you wish to bring a barbecue, would you please park well away from other cars as the smoke can spoil the day for others. In addition, the parking area at Garthorpe is uneven in places and pedestal ('off floor') barbecues can potentially be a serious hazard in a confined space.