Garthorpe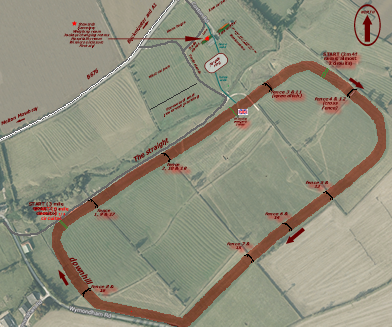 Click on the map to see a detailed version
or click
here
for a site diagram
Garthorpe racecourse
Garthorpe racecourse is situated 5 miles east of Melton Mowbray in Leicestershire on the B676 in Belvoir Hunt country at OS map grid reference SK 840 213. For those with satellite navigation, its postcode is LE14 2SJ. It is widely recognised as the finest point-to-point course in the UK, and also hosts other events such as the Belvoir Hunt team chase and hunter trials. Hunt-related events at Garthorpe are held by invitation of the Belvoir Hunt.
Who does what
The racecourse is managed by The Melton Hunt Club on behalf of landowner Buckminster Estates. MHC maintains the permanent infrastructure — track, fences and stewards' enclosure — while the committees who run each race-day are responsible for any temporary features such as signage and roped-off areas.
There are currently five race-days each year. The three hunts whose countries abut in Melton — the Belvoir, Cottesmore and Quorn — are each invited to organise one race-day. An adjacent hunt, currently the Meynell and South Staffordshire, is also invited to do so. The MHC itself also organises its own race-day.
The organisation of each day is largely the responsibility of the individual point-to-point committees. Each committee will set its own entry prices, delineate car parking areas, assign positions for trade stands and so on.
Trade stands
Suitable trade stands are welcome, but operators must apply in advance so that stand positions can be assigned and marked out before the race-day. Prospective stand operators should contact the appropriate point-to-point secretary:
Because Garthorpe may be a unfamiliar environment for vendors who are normally market traders, a guide is available
here
(and in the Home page Downloads area) specifically for food or drink vendors and children's amusements operators. Prospective stallholders are strongly advised to read it as failure to comply may result on the day in their not being allowed to trade.
---
Garthorpe events website
There is a
website
dedicated to covering racing at Garthorpe, and prospective trade (stand) vendors, competitors, trainers and spectators alike are encouraged to visit the site. It provides race-day previews, results, Nico Morgan's superb photos and lots more.